With this issue comes an opportunity to share the good news of the recent winners in our Big Barrel Draw.
We are happy to announce that Anita Brunt was the winner of our recent Big Barrel Draw in Auckland. Anita arrived to pick up the prize with her granddaughter Harley, the pair meeting with our Auckland adviser to receive the $1,000.00 from our regular giveaway.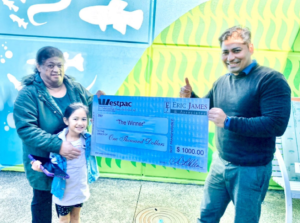 Our Christchurch Big Barrel winners were Aroha Pedersen and Jason Allen of Rolleston. Aroha arrived with a smile that matched the size of the cheque. It's true – winners are grinners!
We always love creating such special occasions for our customers and hope our winners have a great time spending their winnings!